Get latest articles directly in your inbox
Pheww, 2021 has been such a mixed bag with lot of highs and lows throughout the year. Starting out with hope of things getting back to normal. Then, the high mortality rate during summers here in India was too scary. Most of us lost someone in our friend and family circle. Things have been recovering but now again Omicron is getting hits ( I think the virus will be part of our lives for sometime). The regular day to day life is completely changed in last 2 years. Well, there was more to 2021 than just Covid. 2020 was one of those amazing years where I was super productive throught the year. 2021 wasn't as good but well it was decent. Every year I write a year in review to reflect on some of goals with stats. This helps in defining better goals for next year.
---
Read to Learn 🔖
Last year I read 25 books, this year the count went down to 17. I know it should be on the rise given that I bought kindle as well 😅 But, my focus this year was not essentially on the count TBH. I did read some long pieces as well.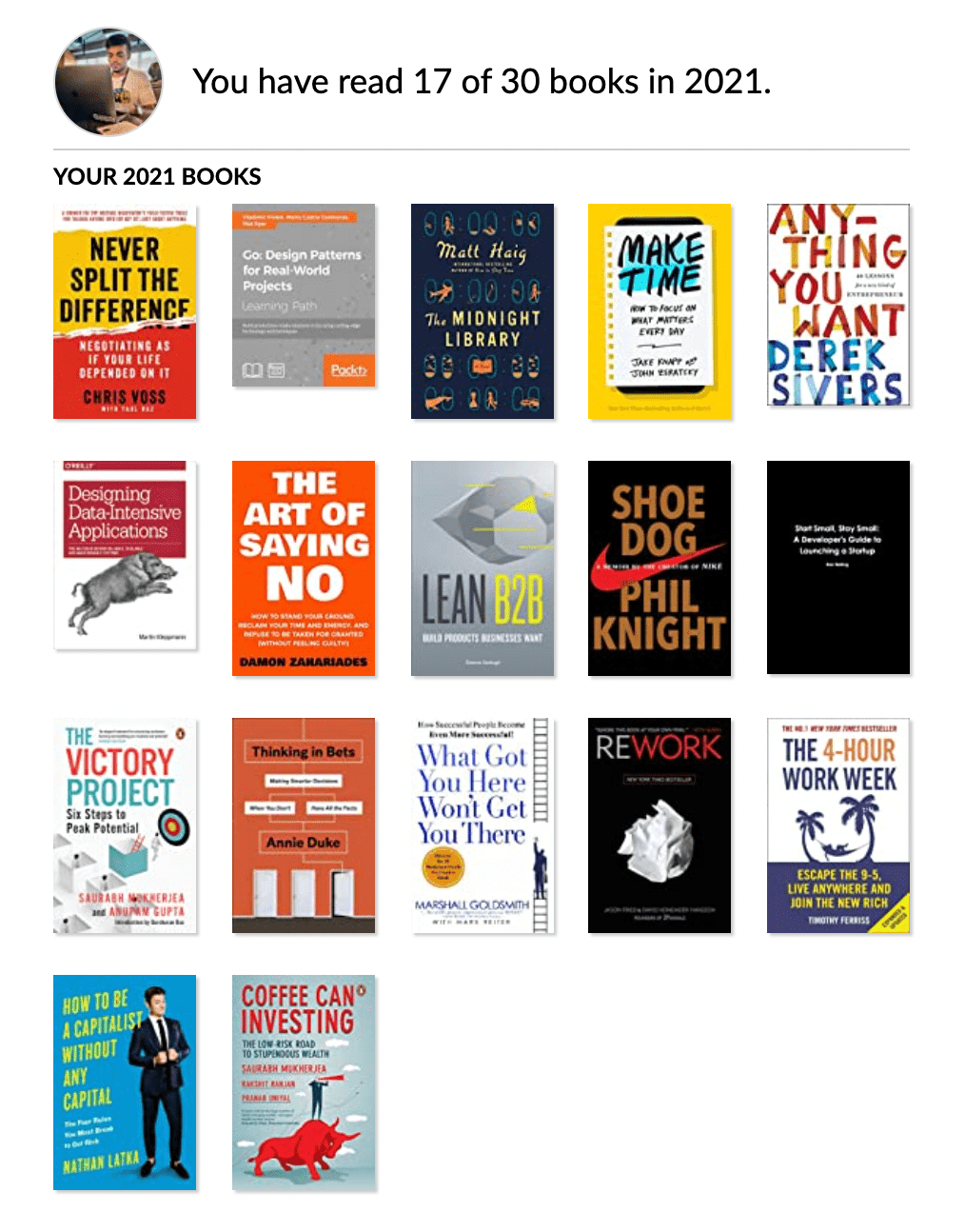 In 2021, I read books around fiction, career, life, productivity and a few business books. My favourite reads of the year were -
"Think before you speak. Read before you think." - Fran Lebowitz
If you've not built a habit of reading, trust me and just start with one. There is so much deep knowledge lying in thousands of amazing books. Pick a book you like and just read 15-20 pages/day. I wrote a guide that will give you a plan if you need one around reading - Reading 101.
Also, If you are looking for book recommendations for 2022. Check out Books on learnshots. I bet you'll love most of the books mentioned here.
---
Writing through 2021 🖊️
2021 was a really good year in terms of writing. I wrote 25 posts with average length of around 800 words. Summing that up results in 20000 words this year ❤️ . Writing brings so much clarity and helps in learning a topic in a better way. It doesn't need to be a long piece, it can just be a short passage about a topic, set of resources, your learnings, etc. Ship 30 for 30 has a free email course that can help you build a writing habit. Highly recommended. In case you are fan of books - On writing well is a must read.
Most of the blogs in 2021 were around programming and tech. I tried to simplify some of the system design topics as well. Do check 'em out here. Apart from writing on my personal blog, I did a lot of freelancing this year as well and earned about $2000+ this year. Most of the opportunities came to me due to my personal blog.
Freelancing gives another level of achievement.

Here are the milestones I set last year.

✅ $100
✅ $500
✅ $1000
✅ $2500

Next goal: $5000 🚀

🎯 Learnings: Keep hustling. Optimise for longer term gains!

— Mohit Khare (@mkfeuhrer) August 1, 2021
---
Code - Build - Ship 🚀
This is the section where I kinda lacked. I built some products like Taski and Learnshots last year. Taski took a lot of time in developing the product I was aspiring to build. Also, while building I realized I lack on knowledge on a lot of components. I continued with learnshots early this year but did not see any growth. Also, found a lot of similar tools and numerous newsletters doing similar stuff. So, decided to put it on hold. Major project that I worked on a digital product in food and restaurant domain. I partnered with a fellow developer and we started off really well.
All those learnings from books, proper planning, timelines were looking good. But, then Covid hit and it just broke our flow somehow. Later in 2021, saw a startup with same idea raising Series A. Well I won't sound giving excuses and accept that I failed on building this product due to XYZ reasons. For now, I've decided to explore opportunity and not just work on random weekend projects. Those are fun but they don't stand out as scalable business.
Well, lot of learning on side projects but at work things went quite well. I worked on a cool project called Premium Insurance that helps in insuring rides for our transport customer at Gojek. Later in 2021, I am leading a cross-platform project towards Sustainibility. Super excited for its launch in early 2022.
---
Travel times 🏖️
Inspite of Covid, I manage to complete 3 trips this year. Early in 2021, I was finally able to have my first "Goa" trip with my boys. Goa has a different vibe totally. Serence beach views, night parties, all day beers and some amazing clicks, I surely want to revisit Goa again in 2022, and this time for a longer duration 🤞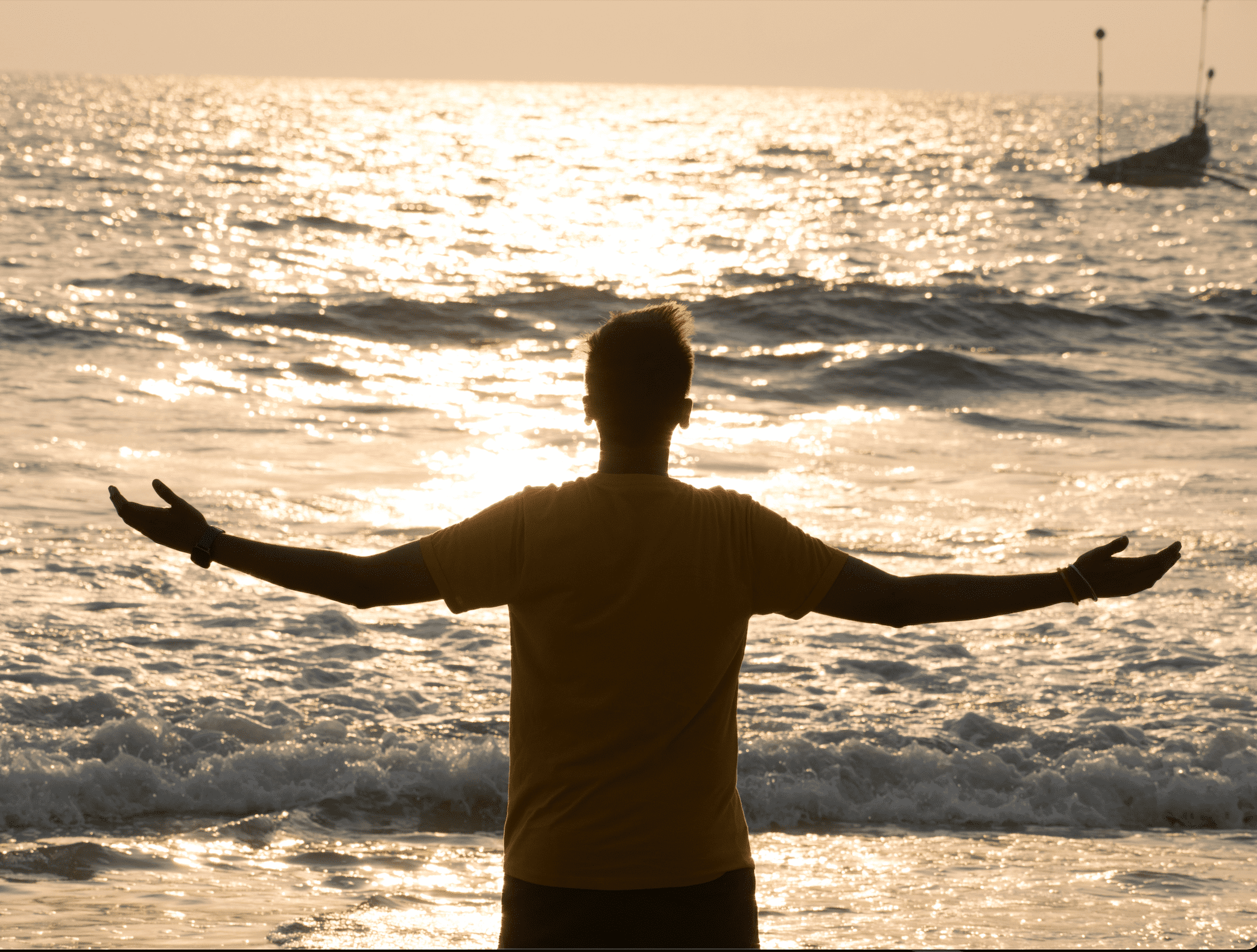 Post the beach vibes, we went for the hills. Explore the beautiful hilly town of Shimla, Manali and the magnificent Solang valley. Thanks to timing and some luck, I witnessed the first snow of the season on our trip to Rohtang Pass. Damn, that white sheet of snow was so beautiful.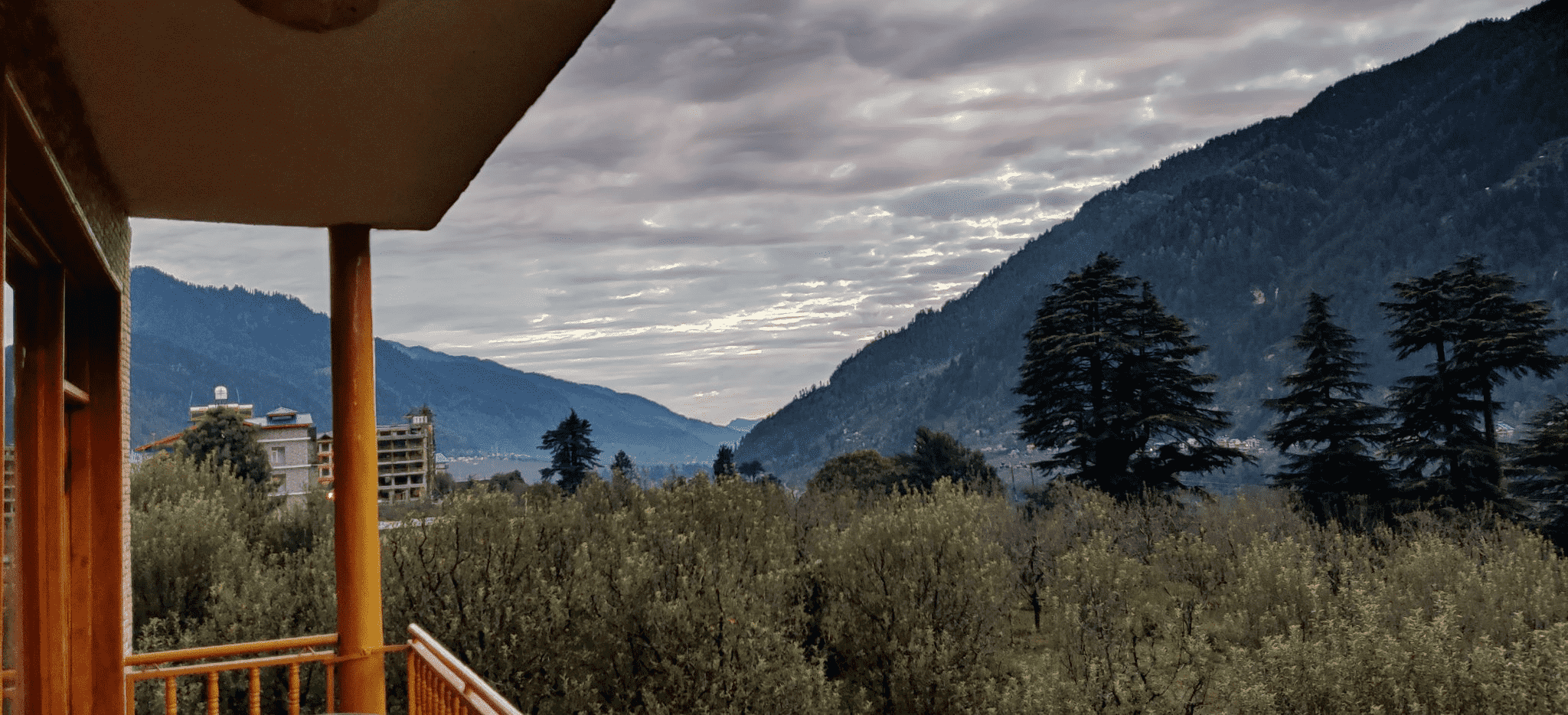 Finally, last week I went on a short trip to the pink city of Jaipur. Explored the forts of Amber, Nahargarh and Jaigarh and royal culture at City palace and Hawa mahal. Bought some blue pottery items, explored local markets of Bapu and Nehru bazaar and enjoyed some amazing local food. Do try out the laal maans, rajasthani thali and sweet ghevar.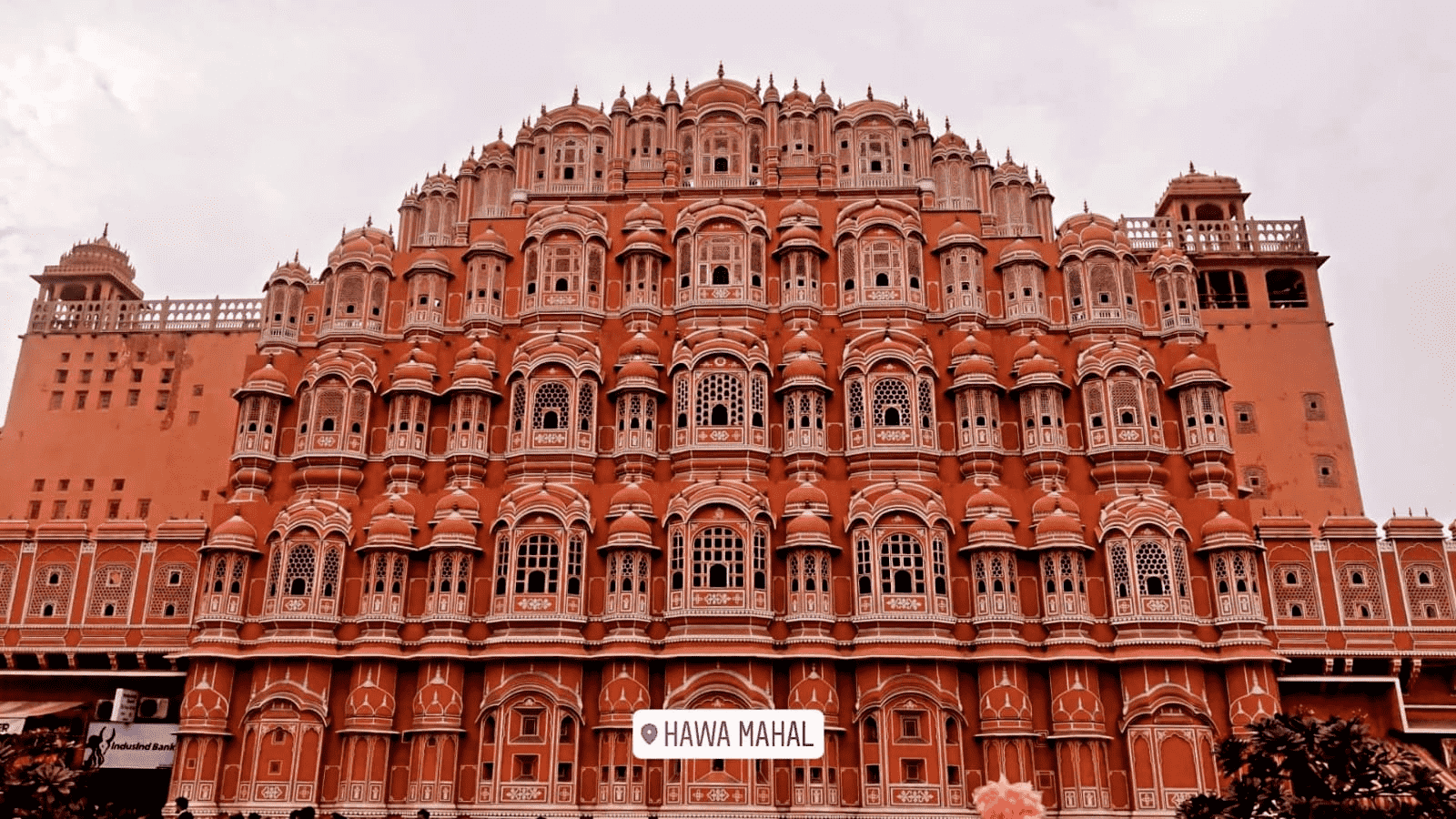 ---
Thank you, next 😁
There were few more highlights in 2021.
Twitter fam nearly doubled from 375 to 680. Lot to learn from folks on this amazing platform. (ignore the crap btw).
Bought my first ever Macbook. Yes, it's M1 and really good.
Added a new floor at my house 🏠 This feels like biggest achievement tbh. Too much money and effort in there, but it's probably worth it. Time to fill up the new space in 2022 😛
Lot of reads on personal finance. I even wrote a notion course on it. Made decent returns in Indian and US markets. The real monies was made in crypto though. 10x baggers and losers as well. Learned a lot on technical analysis this year, thanks to crazy rides in crypto. Explored the web3 domain and projects. WAGMI 💪
Overall, 2021 made me realize life is so short. It's okay to plan stuff but one won't even know and life just ends. So live now and explore things you want to do now. Planning is good but nothing changes until you start acting. "Start now" will be the two words of motivation for me in 2022.
Wishing you all a Happy new year. Kill it folks ❤️
Liked the content? Do support :)