Get latest articles directly in your inbox
Guide to 1:1 Meetings
One-on-one (1:1) meetings are an important tool for discussing progress, career growth, collaborating and resolving blockers, aligning towards the team goal, and a lot more. But it just does not all work, 1:1s are quite useful in building professional relationships that allow expressing opinions and views. (Remember, it's a small world and your peers/connections play a significant role over time).
Given my background, I write from an engineer's perspective but most of the content is applicable to any domain. In this blog, we'll explore why 1:1 meetings are so important and how to make the most out of them to achieve goals and succeed in your roles.
---
Why 1:1s are important
Most people confuse 1:1s as a meeting to give updates on what you're working on. Wait, don't we have daily standups and zillion meetings for that? The objective of a one-on-one meeting is to share and discuss areas that are stopping you from performing better and aligning your goals with your team. Idea is to find the right balance that helps you learn and get better at what you do. Here are some key reasons why you should start having 1:1s with your manager and peers.
Driving personal and professional growth - This is one of the major advantages since not only get to know which areas you are lacking and need to improve, but also you can curate a plan and find the right opportunities to fix that. I personally have found feedback in 1:1 to be super helpful. For instance, while at gojek my manager shared a team problem related to PRs not being properly reviewed and how we can get better at sharing context in PRs. This came in as a small win for me while increasing the team's productivity. I curated a PR template that comes up whenever you raise a merge request. I also added slack integration for the PR review bot that helped in assigning the right person for reviewing code.
Setting clear goals and expectations - If you don't know what you want to achieve, it's likely that you'll fail. This applies to the day-to-day job. It's quite common that people to think they have to do this but the manager and the team had some other expectations. 1:1s help in aligning your goals and help in better evaluation of your performance. Most companies have a competency framework, I highly recommend maintaining a shared doc that tracks what you're doing in each domain like org building, problem-solving, design/architecture, etc. This helps you identify areas where you can further work on.
Building trust and professional relationships - 1:1s provide a nice place to share opinions and views about not just work but anything. It fosters your relationship as a person that stays even when you choose a different path/company. I still occasionally sync with my PM from gojek. As I mentioned earlier, it's a small world, and developing trust and credibility helps you in your career. You are also steps away from getting to hear about the right opportunity. With trust, the team starts to perform better due to efficient collaboration.
Raising concerns: 1:1s are important since they provide a closed space for you to share concerns and issues that are blocking you from doing better. This could be misalignment with one of the peers, not finding the right opportunity, etc. Good managers are actually looking out for these concerns and it's their job how they can make things better.
---
How to do effective 1:1s
There is no defined playbook but a set of guidelines that I've read and learned from experience. I personally think most of the suggestions would help you in doing better 1:1s.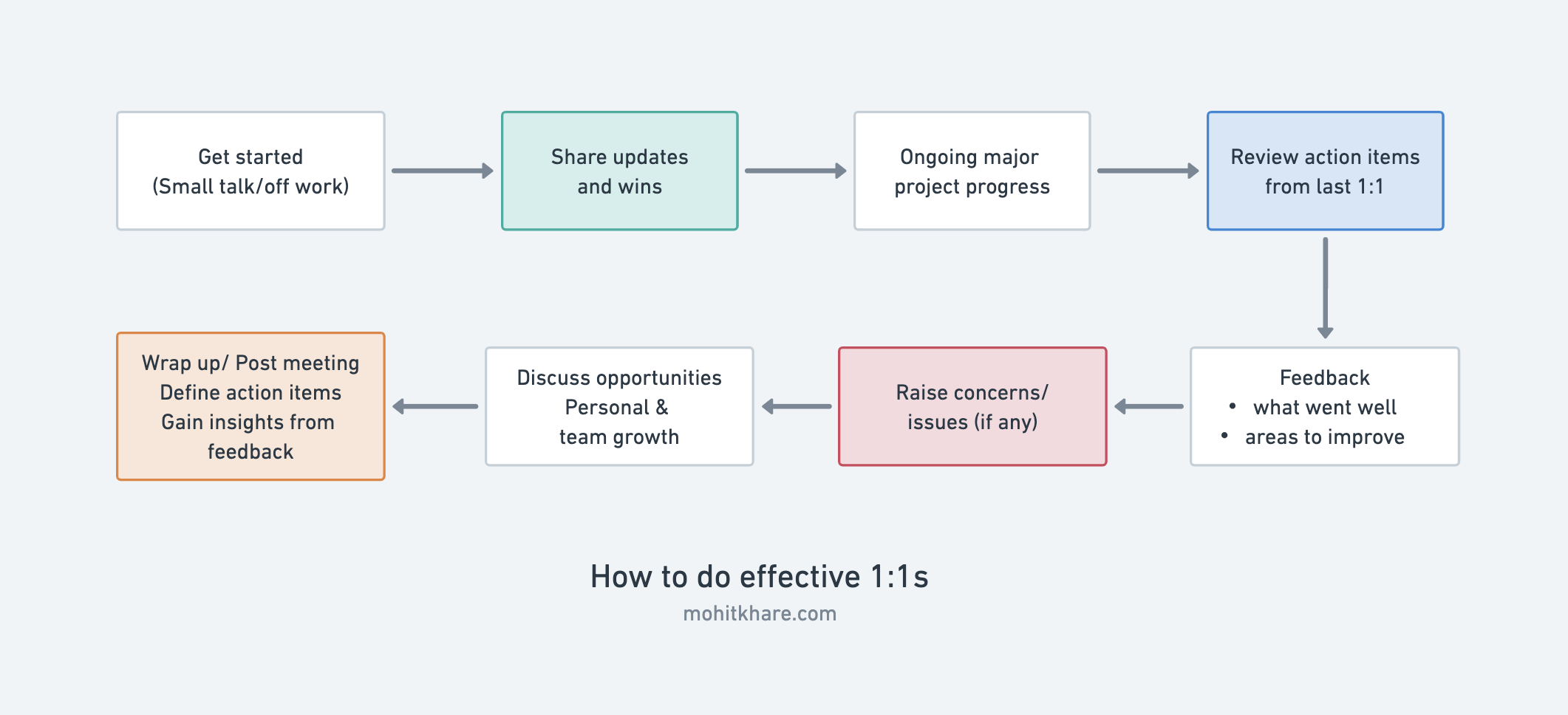 Setting up a schedule - Create a bi-weekly sync with your direct manager. Weekly gets too frequent and often you don't have things to discuss. 1:1s with the manager are a must. For peers, monthly 1–1s work fine. I have candid discussions with peers over calls currently. So it depends on how you are interacting with peers.
Define an agenda - Keep it simple and avoid unnecessary discussions. You shouldn't enter any meeting without clear agenda. It's a sheer waste of time.

How is Project X progressing?
How can we make working on projects easier?
How can I strengthen my communication pattern?

Often due to other things at work (prod issues, overlapping team meetings), 1:1s don't happen as per schedule. In such scenarios, try to reschedule it for the next day. Don't cancel 1:1s as it reduces its importance over time.
A 30-minute meeting is usually sufficient. Keep it crisp and short. No one likes long meetings. But 30 mins gives you enough time to cover all the areas eg. ongoing projects, issues, opportunities, etc.
Keep adding topics/issues to the 1-1 doc as you identify them. Don't sit hour before meeting, you are bound to forget and miss things.
Keep it candid. It isn't supposed to be a formal meeting. That's how you build trust and relationship.
Kick off meeting with some small off-work talk. Then discuss what's going well. Share you winnings. This sets up a positive tone for next 30 minutes.
Avoid simple task status updates in 1:1s. Use standup and wider team meetings for that.
Be honest and transparent about your work. Please! It's fine if you make mistakes, not owning it up is a red flag.
Make sure you spend 5 mins going through what you discussed. Set clear action items. No point is discussing things if you aren't tracking and working on them.
Review notes from your previous one-on-one meeting. See if you've closed on action items from the last meeting.
There is a reason you were given two ears to hear and one mouth to speak. You learn a lot more by listening than by talking. Use this as your mantra to having an effective 1:1.
---
Template for 1:1
There are lots of templates available on the internet. I have a pretty basic Google doc template that I use. You can cut out a few sections or add more based on your interactions with your peers and manager. Along with this template, I maintain a Brag Doc and a Tech competency doc that I update based on 1:1s.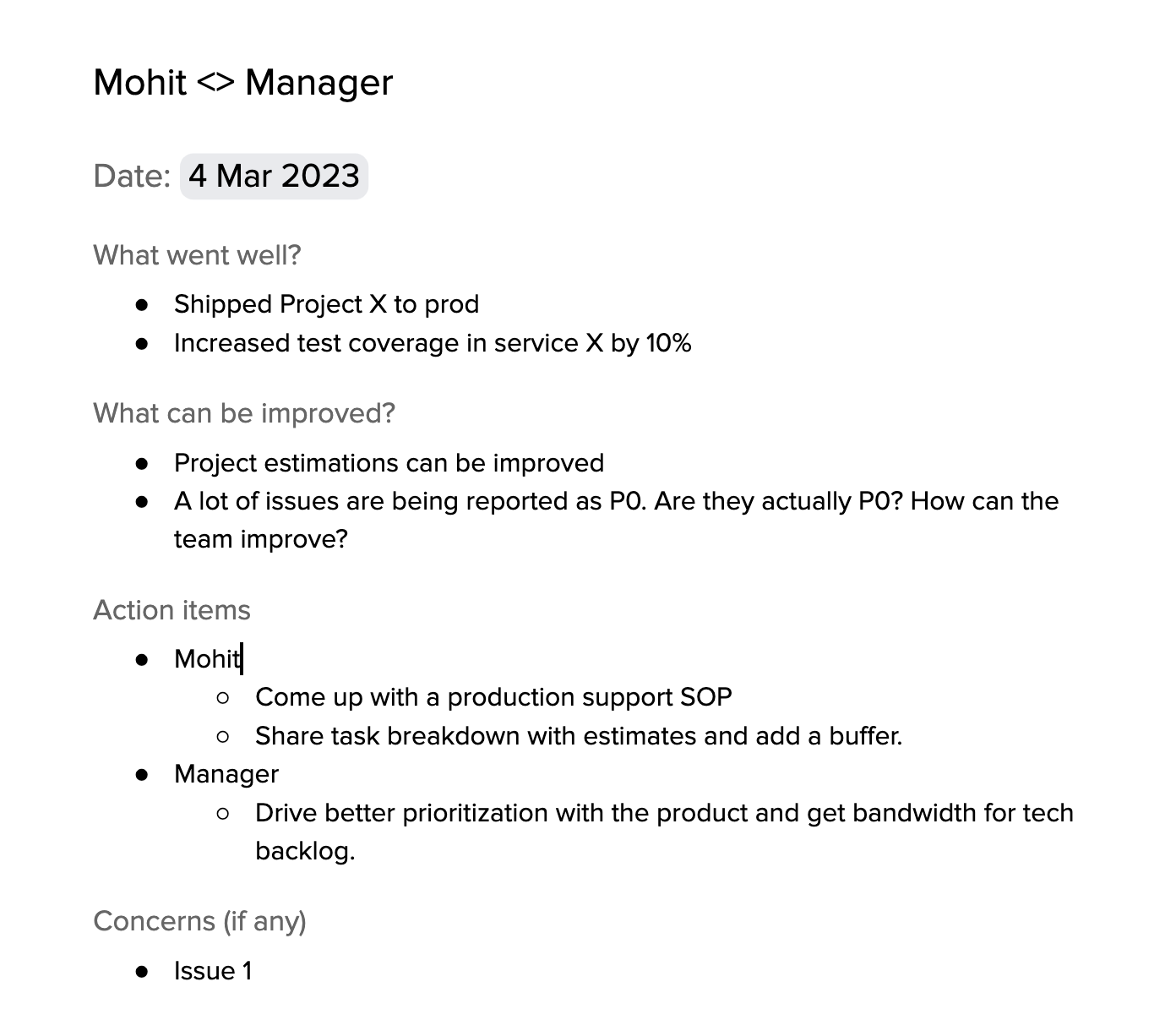 If you want this template, you can access it here.
---
Topics to discuss in 1-1s
This heavily depends on your domain, but sharing a few topics that are generic. There's a whole repository full of 1:1 questions
Performance feedback on ongoing projects.
What are new opportunities within and across teams?
Feedback on peers and team productivity
Personal growth
Support required that will help in doing better
Call out blockers/issues you're facing in current projects.
What are the key problems your manager is facing? (try to identify opportunities there)
---
Resources
Explore more articles
---
I hope you learned something new. Feel free to suggest improvements ✔️
I share regular updates and resources on Twitter. Let's connect!
Keep exploring 🔎 Keep learning 🚀
Liked the content? Do support :)